Click the titles or cover images for an archive thumbnailed view of each chapter.
We're introduced to Dr. Herville Schtein, the secret underground base Station 12, his new assistant Delia Osgood, and Dr. Schtein's temper.
Content Warnings:
-Sexism
-Alcohol
-a brief instance of very cartoony violence
Dr. Schtein's adventures in the prison system.
Content Warnings:
-Male nudity (implied, so far in my comic there's never been any full frontal, it's always butts or chests FYI, so the nudity tag for all of these is this)
-Language (Let's say there's a blanket language warning from chapter two onwards so I don't have to keep typing this)
-Descriptions of violence
-Offscreen barf
-A character who is racist
Outlook not so good.
Content Warnings:
-Male Nudity (butts)
-Blood and violence
-Antisemitic slur (from the previously mentioned racist character)
-Death
-sexual violence threats (This is just implied, never explicit)
-drug abuse
-suicide mention
Delia's new job in DC. New coworkers, and learning new things about the past to do with Orville von Schtein, his grandson, and the many altered humans that now litter the landscape unchecked.
Content Warnings:
-Very brief implied violence
-Some slight ableism (Although it's in German, so you may not notice it)
A Simple Offer. Don't be alarmed, this chapter is very short! It takes place in an office. Nobody gets murdered. Amazing.
Content Warnings:
-Nothin', 6 pages wasn't enough time for me to get grody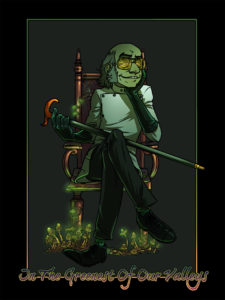 Hey! Let's go see grandpa! A journey through a ruined city filled with gross fungus zombies, a little mad science, a little nagging, all in all a terrible day.
Content Warnings:
-Reanimated Corpses
-Unethical Medical Experimentation
Dr Schtein gets used to life on the outside, and his new freedom to ruin other people's lives.
Content Warnings:
-Blood
-Slight gore (a gross skull)
-violence
-Male Nudity
-Drug Abuse
WHO THE HELL ARE ALL THESE PEOPLE – The chapter
Content Warnings:
-Male Nudity (It keeps happening!)
-Blood
-Violence
-Child Abuse (one page)
Making Amends
Content Warnings:
-There will be blood
-drug mentions